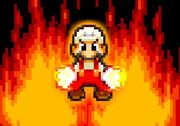 These are the Characters from the series of SUper Mario DX
Heroes
[
]
The Protagonists of the comic
Mario - the worlds best and Favorite plumber is ready to stop evil.
Kai - The Red Ninja in Ninjago is ready to stop evil from conquering a planet.
Luigi - The bro of Mario is ready to stop the evil ones from ruling the planets of Mushroom World and Ninjago.
Yoshi - The Dino Buddy of Mario and Luigi. he uses a tounge to eat enemies.
Finn - the lovable hero who is ready to stop the evil ones too.
Antagonists
[
]
Also known as the evil ones. they want to rule the world
Lord Garmadon - the ruthless bad guy of Ninjago and the arch-enemey of Kai. he is the Head of the Doom Clan.
Bowser - he is the King of the Koopa empire and the arch-enemey of Mario and Luigi. he helps lord Garmadon conquer the world.
Bowser Jr. - Bowser's favorite child and heir of the Koopa empire. he is the Nerd of the evil ones and he plans to help his dad and ally.
Lloyd Garmadon - the son of Lord Garmadon and another helper of the evil ones to conquer the world. he made a mistake of releasing the snake people.
Kamek - Bowser's evil wizard and former Babysitter. he is a Magickoopa and the second brains of the evil ones.
Baslisx - the head of the evil troops. he is a black koopatrol mutated by Dr. Eggman. He has claws and the powers of Medusa. He ruined Finn's dream with Flame Princess by faking he was Finn's dad.
Slithraa and Dogpound - the two henchmen of Lord Garmadon. Slithraa is a blue mutant snake and Dogpound is a muscular German Sheperd.
Mecha SOnic - the main antagonist of the Super Mario bros Z returns to attack the heroes. he wants the star bits to take the world for himself.
The Koopalings: Bowser's other children and siblings of Bowser jr. they are Roy, Lemmy, Morton Koopa Jr., Iggy, Wendy and Larry.
The Skullkin: the skeleton deciples of Lord garmadon and members of his Doom Clan. they are Samukai, Kruncha, Nuckal, Wyplash, Frakjaw, Chopov and Bonezai.
the Evil troopers: these antagonists include Koopatrols, Hammer bros, Boomerang Bros, Doom Clan robots, Skullkin troopers and the R.O.B squad.
Other
[
]
The major allies of the heroes and cameos
Jake (part of Finn's audiance)
BMO (Finn's audiance)
Cinamon Bun 
LSP
Flame Princess (Dream and Finn's Audiance)
Flame King (Dream)
Queen Azerin (Dream)
Joshua the Dog (Dream, really Baslisx)
Sensei Wu and other Ninja (Flashback)